Ludibundness?  Dippoldism? Contorplicate? Cathistophobia? Seeksorrow? Floccinaucinihilipilification?
If you've ever felt the need for words like these, you'll love Mrs Byrne's Dictionary of Unusual, Obscure and Preposterous Words. Gert's favourite by a mile is dharna: in India, a way of collecting debts by sitting on the debtor's doorstep until the money is paid or the collector has starved to death.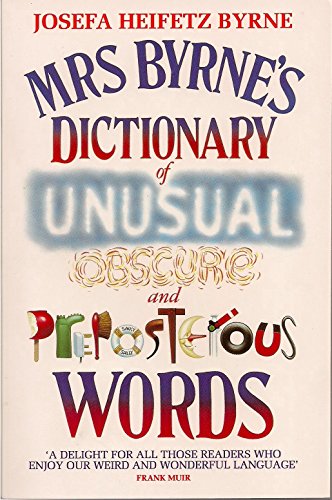 Get has been pottering about in some other books that haven't held her interest: Michael Chabon's Moonglow, Miles Allinson's Fever Of Animals, Eric Beck Rubin's School of Velocity (great title, though) and Nicholson Baker's Substitute. Nicholson Baker took a short course to qualify him to act as a substitute teacher at all levels from littlies to hulking teenagers – presumably so he could write this book. It's an interesting and rather dispiriting experience of the whole beautiful, wasteful, totally crazy educational system. But give me a break, Nicholson, it's  719 pages long, and after a few hundred pages blow-by-blow and word-by-word  descriptions of a day in the classroom get a bit dull.  There's  a point at which a very long book starts to feel more like an exercise in writerly ego – the same goes for Moonglow.
Highly recommended to anyone who enjoyed Bruce Chatwin's Songlines is Singing the Land (Currency Press 2007), a book by an old friend of Gert's, Dr Jill Stubington, who has spent years  recording and transcribing Aboriginal music in remote Australian settlements. In traditional Aboriginal society, The combination of musical talent, ritual knowledge and the authority and ability to reveal the true nature of things confer a power and status impossible to acquire by any other means. (25)
This will  open up your mind to a completely new way of thinking about music.